What You Need to Know about Disc Quality and Your Printed Discs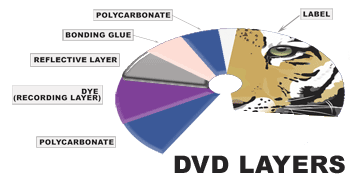 The quality of your disc's recording dye is the single biggest factor in determining the longevity of your disc.
CustomPrintedDiscs.com uses only brand name, professional grade media like Verbatim, Taiyo Yuden and Falcon.
You expect your CDs and DVDs to last a hundred years and, for the most part, they should be able to last that long. Purchase a substandard disc, however, and your data could disappear long before that.
CustomPrintedDiscs.com only uses professional grade CD-Rs and DVD-Rs that we purchase directly from manufacturers you recognize:
Get FREE Sample »
All of these companies are known for providing quality products for professional markets. One benefit of using name-brand discs is that these discs have a proven track record of having better compatibility across a larger range of equipment. This means your printed CD or DVD will work in more recorders/duplicators as well as a larger percentage of players than substandard discs.
CD-Rs and DVD-Rs work by burning pits into the dye layer of the disc. If anything happens to this dye layer (or the reflective layer beneath it), your data is gone. Large manufacturers have exacting standards for their professional grade discs. These standards are in place to ensure the dye layer of the disc (and the data burned to it) maintains its integrity.
There are a couple of ways that substandard media can enter the US market. One way is for a manufactured product that does not make quality specifications to be sold as B or C grade stock to brokers that are relied on to see it as B and C grade. Instead, some of these brokers will sell it as A grade to non-authorized dealers, thus isolating the dealers from the initial agreement and keeping the quick profits for themselves. Other times, as the disc gets passed along distribution lines, the knowledge of the defect somehow gets lost.
That's why it is so important that you know CustomPrintedDiscs.com is an authorized distributor for these large media companies such as Taiyo Yuden, Verbatim and Falcon. Each year, we sell millions of CD-Rs and DVD-Rs to event videographers, musicians and music producers, independent film makers, software developers and more. For every one of these customers, their livelihood depends on the quality of our discs and its a responsibility we take very seriously. These are the same discs we will use for your order.
Get FREE Sample »